Inspiration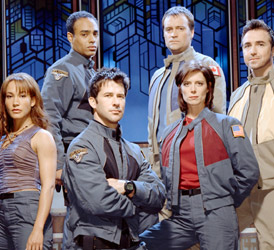 Scoff if you will, but Stargate: Atlantis is currently one of my favorite shows. Some people have expressed their dislike by saying the show is inferior to Stargate: SG-1 or that it's campy and poorly written. I find the show highly entertaining and it's characters easier to relate to than the uber-heroes of SG-1. The show has darkness, humor, a certain ability to poke at its own genre, and of course the snark between Maj. John Sheppard and Dr. Rodney McKay is worth watching on its own.
To that end, I decided that I would work on another artbook and the topic would be Atlantis and its characters. The meaning of the pieces, like everything else I do, probably isn't obvious, but I was thinking about the show as a whole while I made them.
Eight copies of the book were created - six for the season 1 cast (pictured above) and two for archiving. I have no plans to make any more, but prints are available. Please contact me if you're interested.
Navigation
Learn more about how the book was created and put together or view a digital copy of the book using the links below.
Questions & Comments
Feedback, critique, usage inquiries, print requests, and anything else can be sent to me via the contact form on this page.
The Project
Like I said, I am a really big fan of Stargate: Atlantis at the moment and I've really been enjoying the actors on the show. It's rare that I find a program where I am honestly interested in all of the characters and don't want to throw one or more of them off a cliff. From various interviews and behind the scenes features, I found the actors to be interesting and kind -- enough that I decided to make gifts for them all in appreciation for their work on the show.
What can I say? I'm a big geek.
The idea formed in April 2005 and I spent the next two months working on art and getting the book together. I spent weeks thinking about what I would say in the letters. Finally, I gathered everything together, packed them up, and mailed six packages off to Canada on June 2, 2005.
The package for each of the six actors included a copy of the book, a 4x6 image in a 8x10 matte, and a letter. Whether I hear back from them is anyone's guess; I'm not expecting to. I can only hope the gifts are received and that they might bring a smile to someone's face.
Additional Thanks and Credits
Thanks to everyone who helped critique the art-in-progress. You were all tremendously helpful!
Much love to all my new Atlantis friends. The fandom is off to a great start and I'm glad there are so many nice people involved.
Image of the Atlantis cast is property of MGM Studios. I claim no ownership of it.
Fonts used on this site include Rothenburg Decorative, Georgia, and Lucida Handwriting.
If you would like to link to this site:


Please save images to you own server and link back to: http://www.cynthialin.net/seas