Design and Construction
Having learned from some mistakes when I made non vacui sumus, the Waking Seas books were a bit easier to construct, though still time consuming.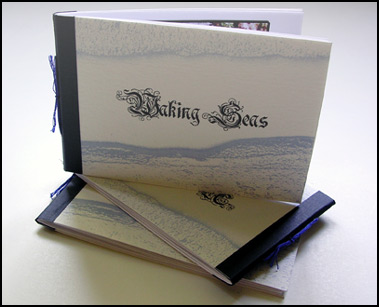 Artwork was created in Adobe Photoshop 7.0 using various images I've taken with my Nikon 3100. The finished images were printed on heavy weight matte photo paper. I find this type of photo paper gives a much nicer look than any sort of gloss/semi-gloss photo paper which always manages to look cheap and a little too DIY for my tastes.
Once dry, the images are cut and afixed to card stock with photo adhesive mounts. I experimented with a few types of glue and all of them made the paper wrinkle and curl. The adhesive mounts are acid-free and strong enough to last for years without worrying about peeling, so it seemed like the best solution.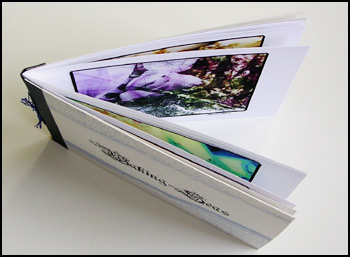 And additional dedication/disclaimer page is made from parchment paper. The covers are printed on 90lb. rough watercolor paper. The front and back pieces are joined by strips of black textured paper.
Three holes were punched so the pages could be sewn together. I used a tapestry needle and blue embroidery floss.